Our family has hosted people in Baška for more than three decades. Our goal is that everybody that stays with us feels welcome, comfortable and enjoys their holiday to the fullest!
We wish our guests get to know and love Baška as we do - its nature, culture, the hospitality of the people and of course, the beautiful blue sea.

The house is located just above the Baška harbour, with a small beach just 100 metres away and a 10 minute walk to the old town on one side and naturist (FKK) camp Bunculuka on the other.
There are restaurants and cafes within a 5-minute walking distance from the house.
House location
Ribarska 47C
51523 Baška
Island of Krk
CROATIA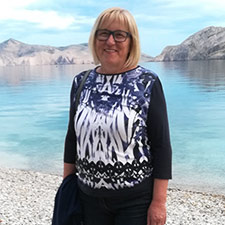 DOROTEA (HOST)